First TecTask

Field Workshop on Structural Analysis



Cap de Creus, Catalonia, Spain
14-19 September, 2006



The First TecTask-sponsored field workshop in structural analysis was held in Cap de Creus (Catalonia, far NE Spain) in 2006, organised and led by:


CONTENTS

Below you find a small collection of pictures from the workshop.

Click on an image to get a full-size version

This workshop was an initiative of the IUGS

TecTask Taskforce on Structural Geology and Tectonics

. TecTask provided a travel grant to Agustin Cardona to travel to Spain from Colombia. Please go to the TecTask homepage for more information on TecTask and its activities.

The workshop was attended by (from left to right) Lídia Ferran, Agustin Cardona, Elena Druguet, Ian Alsop, Miguel Gutiérrez Medina, George Georgiadis, Jordi Carreras, Enrique Gomez-Rivas, Sudipta Sengupta, Iván Martín Rojas, Bregje Hulscher, Vasilios Chatzaras, Paul Bons and Albert Griera (and Montserrat Liesa not on picture):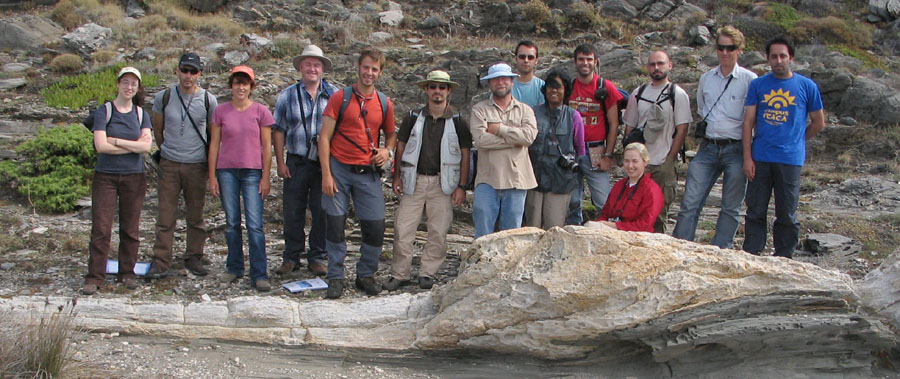 Some comments:


"

I would like to say again that for me, it was a completly successful field trip and for this I want to give my congratulations to the workshop instructors and also to all the participants, we have had a relaxed and pleasant environment with all the people. I wish that the next workshop will be at least so good like this."
"Cape de Creus is certainly an amazing place to go in any direction from concepts and models towards real structures, and deserve the effort of Geoconservation. Logistic was excellent, and exchange with people from different schools and scales ofanalisis was fantastic.
"
"It was such a great opportunity to see one of the world's best area for structural geology."
Some of the structures in the high-grade rocks that experienced several deformation phases during the Variscan Orogeny
back to top

Shear zones made Cap de Creus world famous for geologists
back to top
Hands-on exercises were part of the workshop
back to top
There were plenty of animated discussions on the structures and their interpretation
back to top
A small mapping project was also part of the workshop
back to top
Cap de Creus is a natural park with great landscapes, diverse biology and a great geological heritage
back to top
Lunches: from sheltering from the rain to seeking a cool, shady spot
back to top
The organisers
| | | |
| --- | --- | --- |
| | | |
| Jordi Carreras | Elena Druguet | Ian Alsop, Paul Bons, Sudipta Sengupta & Albert Griera |
---
Pictures by Paul Bons, Jordi Carreras & Miguel Gutierrez

Interested in this or possible future workshops? Want to organise a field trip to Cap de Creus yourself? Please have a look at the MIET website where you can download material, or contact:
We thank TecTask for providing a travel grant for this workshop. Special thanks also to Lina M. Castaño and Enrique Gomez-Rivas for their great help in editing the field guide. The staff of the Parc Natural de Cap de Creus kindly allowed full access to the area of great natural beauty and geological heritage.

This page was created by Paul Bons, 10/10/2006.

back to top